Title: IA-2 "Hammerhead" Gravtank
Allanea - April 29, 2006 12:55 PM (GMT)
QUOTE ("Central Facehuggeria)
IA-2 "Hammerhead" Mobile Armor-(anti)Gravity. Gravtank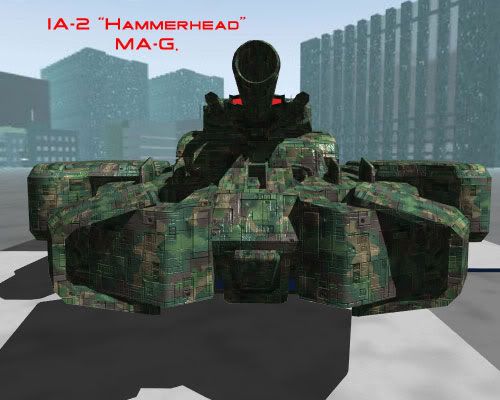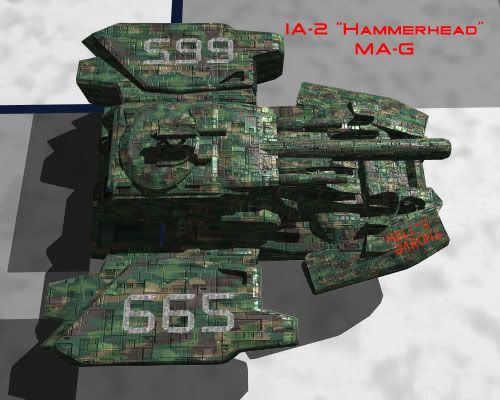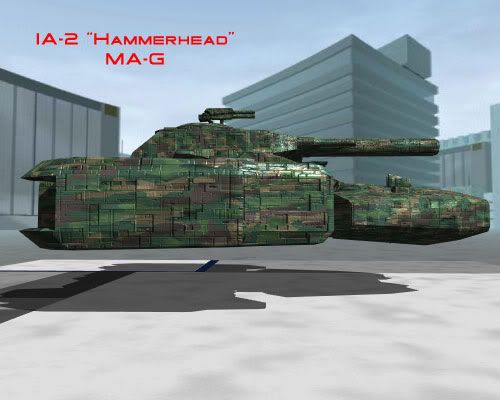 Weaponry:
1x Heavy Anti-Tank Coilgun (See IA-1 "Ogre" Entry.)
2x Coaxial general purpose 12mm Coilguns. ("")
1x Pintle-mounted Dual Repeating Particle Blaster (See IA-7 "Hornet" Entry.)

Armor:
CNT/DU mesh. (See IA-1 "Ogre" Entry.)

Propulsion:
1x Ground-level gravitic propulsion unit.

Power:
1x P-7 Fusion Reactor.
(Can upgrade to CF Standard Type-9 Micro singularity reactor.)

Fuel:
Anything

Shields:
Absorption
Gravitic (The Vehicle's drive field has a passive effect of deflecting high-mass projectiles, such as heavy anti-tank shells. Note that said protection is not perfect.)

Crew:
3 (Driver, Commander, Gunner)

Computer Systems:
(See IA-1 "Ogre" Entry.)
(Capable of running low-level AI.)

Speed:

240 KM/H.

ECM:

(See IA-1 "Ogre" Entry)

Notes:

Well, you asked for a Grav-Tank. Besides the propulsion itself, the tank is *still* reasonably hard sci-fi. I'll be making stats for a more ubertech version just to compare, but meh.

Also, the armor, while referring to the Heavy Tank's, is a little more than half as thick, meaning it still has plenty good resistance to most everything the enemy's going to be flinging on a Normal Sol-level battlefield. It isn't the 'The tank can look like swiss cheese and still fight' that the Ogre is though. It's vastly more survivable than the Hornet, however.

It is not capable of sustained flight, like a conventional CF Grav-tank.


Facehug is God.
* Hosted for free by InvisionFree