Title: Tutorial: Photorealistic Lightsabers
Description: The way they should be done!
Joe - July 19, 2005 04:15 PM (GMT)
When the original
Star Wars
was made in 1977, special effects artists had only one way to create the scintillating glow of the lightsaber: painting the blade in by hand. Almost thirty years later, programs like Photoshop allow us to generate lightsabers more quickly and easily. There are many methods described on the Internet, but not all laser swords are created equal. Many of these methods take the easy way out, hoping that casual viewers won't be disturbed by their lack of "lightsaber-ness." But rest assured that achieving a photorealistic lightsaber effect is a worthwhile and sensible goal. Through the method described here, that goal can now be reached.
[skip to next post if you want to get past theory and learn how to do it]
Anatomy of the Lightsaber Effect
In order to re-create the classic lightsaber effect, one must understand the classic lightsaber effect. (This tutorial attempts to re-create Luke's lightsaber from
A New Hope
, as seen in Obi-Wan's house.) The classic lightsaber blade has four basic parts: core, edge glow, colored glow, and base glow.
At the heart of every lightsaber is a pure white
core
. This core defines the shape of the blade and has a more or less hard edge. But when seen alone, the core simply appears to be a white stick. The colored glow that surrounds it gives the blade its shimmering aura.
The innermost part of this glow, which I call the
edge glow
, is very bright and vary narrow. It runs around the outside of the core and is just slightly darker than the core. The edge glow usually flickers, making the blade appear to change shape slightly. Around this is a vividly colored region I simply call the
colored glow
. This is where most of the blade's color is, and it is simply a translucent patch of color that fades outward. (The colored glow often pulsates, too, especially when the blade isn't moving much.) The largest and dimmest area is the
base glow
, which has little color and is nearly unnoticeable in still pictures.
Together, these four elements create the appearance of a weapon capable of cutting through just about anything. Unfortunately, many techniques eliminate the edge glow and base glow, leaving a rather uninteresting and unrealistic lightsaber. The result appears to be more of a glowing stick than a blade of dynamic and volatile energy. It is important, therefore, to use a method that incorporates all four critical areas of the lightsaber effect.
(A lighsaber's appearance can be drastically improved by making the tip pointed. Most lightsabers, including many in the original movies, have blunt or rounded tips. Thus far, only
Revenge of the Sith
has pulled off truly blade-like tips. If you find a realistic way to do this in your videos, more power to you. However, this can be very difficult to pull off in close-up shots.)
The next post describes how to actually pull off this effect.
Joe - July 19, 2005 04:16 PM (GMT)
Creating the Lightsaber Effect
Photoshop offers a number of tools that can make impressive lightsabers. The important thing is to not take the easy way out. Countless web tutorials suggest creating a white core on a separate layer and then applying a simple Outer Glow effect. Sadly, this simple method produces the colored glow only—the edge glow and base glow are neglected, and the resulting lightsaber looks
fake
. In shots where the lightsaber is mostly still, the lack of realism becomes even more apparent: the glow doesn't pulsate at all. This is not the way to go.
My own method is not impossibly complex, and the results are breathtaking, if I do say so myself. Here are steps to making a blue lightsaber like the one Luke inherited from his father, for use in medium-distance shots. This technique works best for blue lightsabers, with green lightsabers close behind and red lightsabers looking merely good. Don't be intimidated by the apparent length of the tutorial; this actually is a pretty quick process. (This tutorial assumes you are moderately proficient with the program.)
Note: It is possible to apply these lightsaber effects to still pictures OR moving footage. If you'd like to do it for a video clip, the process is called
rotoscoping
and there's a great tutorial
here
. Follow it exactly until he comes to the part where he actually creates the glow. At that point, you can use my effect or whatever you want. Also, make sure you own Final Cut Pro and a fairly fast computer.
Blue Lightsaber, Medium Distance
1. Create a new layer ("Core") and fill it with black. Set the blending mode to Screen.
2. Locate the lightsaber blade in the frame. Make a selection of this shape. (I suggest using the Polygonal Lasso Tool.) Fill this area on the "Core" layer with white or an extremely light shade of blue.
3. Apply a Gaussian Blur of 0.7 pixels.
4. Make a copy of "Core," place it just below "Core," and rename it "Glow Base." Apply a Gaussian Blur of 7.8 pixels. (This layer will serve both as the base glow and the colored glow.)
5. Open Hue and Saturation, check the Colorize box, and set the numbers to 210, 40, and 0. (In some shots, the Hue may need to be a little bit higher.)
6. Open the Levels dialog box and set the input slider on the far right to 210.
7. Apply a Gaussian Blur of 17.9 pixels and Fade Gaussian Blur with Screen mode, at 100% opacity. (This Gaussian Blur makes the colored glow much larger and dimmer; fading it to Screen restores the original brightness, but the base glow now appears around it. This step is critical.)
8. Make another copy of "Core" and place it between "Core" and "Glow Base." Rename it "Edge Glow." Set its blending mode to Color Dodge. Apply a Gaussian Blur of 4 pixels.
9. Open Levels and set the output slider on the far right to 140.
10. Open Hue and Saturation, check the Colorize box, and set the numbers to 221, 72, and 0.
11. Usually, it's a good idea to increase the Saturation of the "Glow Base" layer to +30 (not set to Colorize).
12. Now the glow itself is finished, but it will look exactly the same in every frame. To give the blade a realistic flicker, start by creating a new layer above "Glow Base" and group it with "Glow Base." Name the new layer "Base Flicker" and set it to the blending mode Multiply.
13. Apply the Clouds filter to "Base Flicker." Make a copy of the layer, rename it "Edge Flicker," and group it with "Edge Glow."
14. Open Levels for "Base Flicker" and set the input sliders to 105, 1.00, and 133. Set the left output slider to 211.
15. Open Levels for "Edge Flicker" and set the outer input sliders close to the middle of the histogram. Set the left output slider to 150.
These steps should be sufficient for most medium-distance shots. Keep in mind while shooting that light-colored backgrounds make any lightsaber look terrible.
My third and final post will describe how to modify this effect for other colors and distances.
EDIT: Here's an spinoff of the flicker technique. Create only one flicker layer, group it to the base glow layer, and set its blending mode to Overlay. Apply Clouds to it, and apply Difference Clouds if desired...maybe even several times. Now apply the Median filter (under Filter>Noise) to that layer. Use Levels to adjust the settings as desired. The nice thing about this method is that it brightens some areas and darkens others, rather than just darkening some areas. The Median filter does a nice job of smoothening out the Clouds filter, leading to an effect much closer to the original.
Joe - July 19, 2005 04:16 PM (GMT)
Green and red (and purple) lightsabers can be made with the same technique, but there are a few differences.
Green Lightsaber, Medium Distance
• In Step 5, set Hue and Saturation to 110, 47, and 0.
• In Step 9, set the right output slider to 96.
• In Step 10, set Hue and Saturation to 203, 93, and 0.
• Omit Step 11.
Red Lightsaber, Medium Distance
• In Step 5, set Hue and Saturation to 355, 52, and 0.
• In Step 8, Gaussian Blur by 10.5 pixels, not 4 pixels.
• In Step 9, set the right output slider to 113.
• In Step 10, set Hue and Saturation to 23, 57, and -52.
• Between Steps 10 and 11, open Levels for "Glow Base" and set the middle input slider to 1.19.
• Apply a Gaussian Blur of 0.5 pixels to "Core."
Keep in mind that all settings can and should be adjusted depending on the shot and your preferences. Colors, blur radii, Levels values--all of these can change from shot to shot in order to maintain a consistent and eye-pleasing effect.
For close-up shots with lightsabers, there are a number of considerations:
• All parts of the glow should be wider, and sometimes brighter. Nearly any time you apply Gaussian Blur, use a higher value.
• You may want to slightly reduce the Saturation values to make the colors less cartoonish.
• It's often a good idea to repeat Step 7 once or twice, using different values for Gaussian Blur and/or various opacities for Fade.
EDIT: Well, I've fallen for the Color Balance method now. Instead of using Hue and Saturation, I recommend using Image>Adjustment>Color Balance. This is a more flexible tool because it allows you to make color adjustments for highlights, midtones, and shadows independently. I won't give you any exact numbers, because they'll vary from shot to shot. But keep these tips in mind:
Blue lightsabers: Generally, these should fade from a bright cyan to a deep, slightly violet-ish blue.
Green lightsabers: A little cyan in the highlights is nice, but don't overdo it. A little more yellow in the midtones and shadows will go a long way.
Red lightsabers: These are tricky. You'll need A LOT of red in the highlights and midtones, and bits of the other colors in all three categories.
Matting
It's inevitable that in a video, the lightsabers will pass behind the fighter's bodies. In other words, part of the lightsaber will be missing. When this happens, we're forced to erase part of the blade.
There are several complications arising from this. The biggest one is the decision of what to do with the glow. Many people apply the glow effects after the matting, which lets the glow bleed through over the foreground object. Others say this is unrealistic and try to erase the glow that bleeds over the object.
Ideally, you should find a balance here. Create the blades as usual, as if there were no one standing in front of them Before creating the glow, paint black over the parts of the blades that are covered. Now apply the glow effects and, if you have time,
partially
erase the unwanted glow.
Good luck with your own lightsabers. I apologize for the length of this tutorial, but a well-done lightsaber effect is more complex than most people think. If you have a better technique for making lightsabers, please post it! (Also, check out
this thread
on photoshopforums.com to see examples of this effect in action.)
---Brad#2--- - July 19, 2005 05:40 PM (GMT)
That picture really does look realistic! Well, I guess its not realistic, but it looks like the ones in the movies! :lol:
Joe - July 19, 2005 05:53 PM (GMT)
Thanks! I don't know how "realistic" it is, since I've never seen a real lightsaber, but I'm guessing they'd look a lot like this. In any case, this technique is good for creating a realistic light source, and pretty close to the original effect.

Man, my early attempts were terrible... :rolleyes:
Akira san - July 19, 2005 05:59 PM (GMT)
So this is only for pictures right? I was hoping I'd be able to put a lightsaber blade in a movie clip. :(

And where is Gaussian Blur?

Still, this is great! I looked at that link and saw your pictures! They look like they belong in the movies! :o
Joe - July 19, 2005 06:04 PM (GMT)
No, this is easily applied to videos as well. I've done it before. I can't really describe how to do it, but it requires Adobe After Effects. Do a Google search for "lightsaber rotoscoping tutorial" and you should find tutorials that describe the creation of filmstrip (.flm) files. Use their tutorials, but substitute the actual lightsabers for my technique. Good luck! It takes a loooooong time to rotoscope, since you have to trace every frame... <_<

Gaussian Blur is under the Filters>Blur submenu.
Akira san - July 19, 2005 08:15 PM (GMT)
Ok thanks. Yay! Now I can make Star Wars movies.
Joe - July 19, 2005 08:33 PM (GMT)
That's the great thing about home computers!
---Brad#2--- - July 20, 2005 02:25 PM (GMT)
I'm working on following this tutorial at the moment...I'll let you know when I finish. Hopefully they will look as good as yours!
---Brad#2--- - July 20, 2005 03:06 PM (GMT)
Ok here's my result...I made the core a bit thick, but I don't think it looks too bad. It was a lot of work just to go back and redo it because of that. If I was actually going to use it for something, I'd fix it. Also I think I should've probably added a blue tint to the core rather than making it completely white.

Joe - July 20, 2005 03:23 PM (GMT)
Very nice! I agree that the core is a bit thick, but the effect is pretty good. If you look at some shots in ESB, the lightsabers are so thin...they're almost too thin. Especially Luke's. I guess it's better to have them too thin than too thick.

One thing to take into consideration: the more pixel width the blade has, the higher values you'll have to use for Gaussian Blur. It looks to me like your glow is a little dim as a result of the Blur values being too low.
---Brad#2--- - July 20, 2005 03:50 PM (GMT)
Yes the blur is a bit low also, I suppose, but I wasn't especting perfection :P
Akira san - July 21, 2005 08:47 PM (GMT)
I've got another problem. When I apply the cloud filter, the whole screen turns white.
Joe - July 21, 2005 10:49 PM (GMT)
If you're just seeing a white screen when you press Clouds, your background and foreground colors are both set to white. On your keyboard, press D and then X. At the bottom of the toolbox, there should be two large colored boxes, one overlapping the other. One should now be black; the other should still be white. Try applying Clouds again, and it should work.
Akira san - July 22, 2005 12:09 AM (GMT)
Ok now it works. Thanks once again.
Joe - July 28, 2005 06:22 AM (GMT)
No problem.

I submitted this tutorial to good-tutorials.com and pixel2life.com. :) Hopefully, this'll gain us a few more members.
madguitaristltd - July 29, 2005 08:07 AM (GMT)
Hey I am working on your tut (which looks like it would turn out fantastic), and I am stuck at where you say "level dialog box." I am relatively new to Photoshop and I do not know where to find that. Thanks.
---Brad#2--- - July 29, 2005 12:41 PM (GMT)
Its under "image--->adjustments--->levels" I think... or you can just hit ctrl+L.
Beastmonkey - July 30, 2005 05:32 AM (GMT)
Nice tutorial Joe, but I seem to be having a problem. I'm average on photoshop, and I followed your tutorial step by step, but this is what I came up with,
My Result
. So I think I'm just missing one little thing I have to do in order for it to show up. Any ideas?
Beastmonkey - July 30, 2005 08:11 PM (GMT)
---Brad#2--- - July 31, 2005 01:19 AM (GMT)
Try playing with the blending mode options for the layers...I think that might be your problem.
Joe - July 31, 2005 04:50 AM (GMT)
You're using a white background. Think about a light source in front of a pure white background. How can you see the light source? You can't if it's pure white. Try a black background, as this will show off the effect in the most visible way. Then progress to darkish backgrounds. Avoid light backgrounds whenever you use lightsabers, because as a rule it looks terrible. Hope this helps! :)
A.Spencer - July 31, 2005 11:35 AM (GMT)
Yea I did a photo in front of a white door once, and it turned out like S***.

(Joe)

EDIT: Please refrain from using vulgarities, even censored ones, on these forums. Thanks. :)
Eamon - August 2, 2005 11:33 PM (GMT)
For the Lightsaber Effect this is what I do... (hi)

After your picture is open

1. Create a white sold on your background the size and shape of the blade. Name this layer "core".
2. Duplicate that layer, change the color of the sold to "red,green,blue,orange", and name it "glow".
3. Duplicate the glow layer 3 times (this gives you 4 glow layers total).
4. Gaussian Blur the "core" layer just enough to fuzz the edges.
5. Gaussian Blur each "glow" layer with a ratio of 2-4-6-8. (so if you start with 4 the next will 8 and then 16 and so on...)

The layers sould end up in this order:

Core
Glow
Glow1
Glow2
Glow3
background

I hope this helps...

-Eamon

Joe - August 3, 2005 05:51 AM (GMT)
Firstly, welcome to PSFX! We love new members here. Never be afraid to post as much as you want. (No spam or inappropriate material, of course.)

The method you described works on the same basic principle as mine--using multiple Gaussian Blurs to create a more complex glow. However, since yours is missing the Color Dodge layer, the blade will end up with relatively low-saturation blade edges. Some people like this (including ILM nowadays <_< ), but I don't really care for it. I prefer the edges of the blade, where it transitions from white to the colored glow, to have very high saturation. This more closely mimics the way real light sources appear on-camera.

To each his own, of course. Whatever effect makes you happy is the one you should use. Again, welcome to PSFX. :)
Eamon - August 5, 2005 02:51 PM (GMT)
I see your point about the light sorce... I think the reasion that I do it this way is because it is easier... and that means quite a bit come animation time at 30 frams per sec...
Saber Fight Animation
Joe - August 5, 2005 04:31 PM (GMT)
Actually, my method goes by quite quickly. It just looks like a lot of work. And everything can be done just once; it will be applied to all frames simultaneously. I've rotoscoped video before, and this method isn't noticeably slower than any other method.

Nice choice for the video source. Man, I want to get that whole test fight! I know they shot the whole thing, but the Episode I DVD only shows that clip that you used. Any information on the complete test?
Eamon - August 5, 2005 05:33 PM (GMT)
I wish I did! but I don't... :(

I just have that clip...

btw I am starting to like the look of your saber method, the more I look at it...

I think I will give it a try on some animation...
Joe - August 5, 2005 06:34 PM (GMT)
Glad you like it! Sometimes it looks terrible; sometimes it looks so awesome I can't believe it. You have to tweak the effect depending on the shot. In order to keep the look of the effect consistent, you sometimes have to change the method. Counterintuitive, but so true. :blink:
gabe565 - August 11, 2005 03:37 PM (GMT)
i know one that i think is a little easier, and i think it makes better lightsabers, but im not saying yours is bad, yours is also cool
Red Devil - August 11, 2005 07:32 PM (GMT)
I did one...here: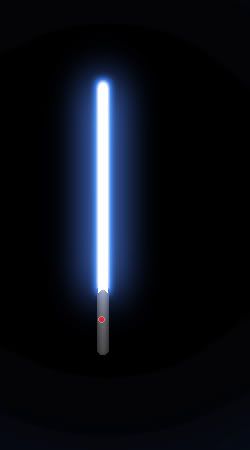 I gave it a handle too. And a power button.
Zyzzx - August 11, 2005 09:36 PM (GMT)
A friend of mine just recently did a Star Wars movie spoof.... If we wanted to make the lightsabers actually look like real lightsabers... what program could we use? Would I just use photoshop to edit the sabers frame by frame and then he could recompile it or whatever needs to be done as far as the video editing goes? Or would there be an easier way?

Nice tut by the way... have yet to try it though :)
Zyzzx - August 12, 2005 03:03 AM (GMT)
So here's a few lightsabers with handles and all... I started your tutorial, got confused and just started over and experimented for a while, and this is a pretty good, very easy to create look. The core isn't quite as bright as I'd like... but it's Ok.
Joe - August 12, 2005 03:05 AM (GMT)
Yes, this can be done with Photoshop. You'll also need Adobe After Effects or a similar program that can create and make use of Filmstrip files. Do a Google search for "lightsaber rotoscope Photoshop" and you'll find tutorials on this process. (Rotoscoping is the term used to describe frame-by-frame alteration of the video.) Just substitute whatever actual lightsaber effects you want into the process. Basically, you create a Filmstrip file in the other program, open it in Photoshop, make changes, save the changes, reopen the Filmstrip in the other program, and render the Filmstrip as video.

Looks good, Red Devil and Zyzzx!


QUOTE
i know one that i think is a little easier, and i think it makes better lightsabers, but im not saying yours is bad, yours is also cool


Great! Want to share this technique with us?
Zyzzx - August 12, 2005 03:07 AM (GMT)
Do the After Effects or any similar programs happen to be free? :D
Joe - August 12, 2005 03:19 AM (GMT)
None that I know of. Sorry! :( Isn't money one of those unfortunate realities?
Dread Pirate Roberts - August 25, 2005 06:52 PM (GMT)
Oy, I tried to do this last night, but I ended up with just the "Core" layer visible. I'll try again in a bit. Also, how do I change the "Blend Mode"? I couldn't find it anywhere.

I'm using Photoshop LE 4.0 by the way, will that be good enough?
Joe - August 26, 2005 05:28 AM (GMT)
Not sure if it will work with LE. If it has blending modes, here's how to do it. Find the Layers palette. Click the thumbnail of the layer you want to change. If LE supports blending modes, there should be a pull-down box at the top of the palette that says "Normal." There should be other options such as Screen, Multiply, Difference, Hard Light, and a whole host of others.
Joe - August 31, 2005 04:59 AM (GMT)
Hey Dread Pirate Roberts--here's the workaround for your Fade Gaussian Blur problem.

First of all, don't apply the Blur that you want to fade. Instead, go Layer>Duplicate Layer and accept the default settings. A copy of that layer should appear on the Layers palette. Make sure its Blending Mode is set to Screen. Now apply the large Gaussian Blur. The result should be a wider, brighter glow. At this point, you can reduce the two layer to one, if you wish, by going Layer>Merge Down.

It's less convenient than the Fade option offered by the full version of Photoshop, but the results are exactly the same, pixel by pixel. Good luck!