Title: CT Nutmegger's Beach Files
Description: Moved from the old SWARM
mohmama3 - July 31, 2005 03:38 AM (GMT)
These wonderful beach items were created by CTNutmegger of
Real Superstar Sims
:yg &
Neighborhood 99
Forum :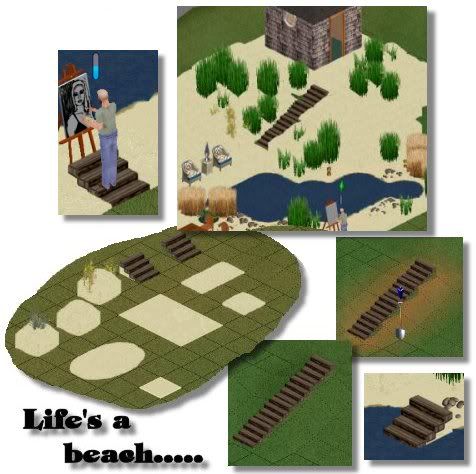 Since someone was asking for sand files in another thread & because CTNutmegger is generous enough to allow filesharing of her files, I thought if anyone else wanted them while I was sending them out, they could post in this thread. :)
Updated to add that you can find these files at the above links. We are no longer emailing these files since they can be downloaded else where. If you do have any problems and not able to get the files from the links just holler and we will help.
:)
greyboughwulfgar - August 10, 2005 12:04 AM (GMT)
Oh, could I please have them too.
Thank you so much.
wulfie
mohmama3 - August 10, 2005 01:38 AM (GMT)
Wulfie

I pretty sure I have all of them. I will run off and take a look. As soon as I can get them together, I will send them to you.
mohmama3 - August 10, 2005 02:15 AM (GMT)
They are finally on the way.
:hug2
greyboughwulfgar - August 10, 2005 02:39 AM (GMT)
Got them. Thanks so much Pat.
wulfie
elizabrook - October 18, 2007 09:38 PM (GMT)
Is this still an active thread? Because I would LOVE to have these wonderful files. :love

elizabrook at gmail.com
irisheyz - October 19, 2007 12:28 AM (GMT)
:hi Eliza
I just checked the Real Superstar Sims Yahoo Group and the files are there :yay
Real Superstar Sims
Look under Files and then Beaches.
:)
ripmagnum - March 22, 2013 07:01 PM (GMT)
Oh, nice---can I get these?? :exicted

My E-mail: ripmagnum @ gmail.com

Thank you so much!! :gum
texkit1 - March 23, 2013 04:48 PM (GMT)
:hi ripmagnum
You can find the beach set here
Real Superstar Sims
:yg plus some other great downloads in her group. :yes
:tan
Sent you an email with this link. :)