Title: NICK FOR PRESIDENT
Description: SUSAN FOR VICE PRESIDENT
Lizard-001 - January 6, 2012 02:19 AM (GMT)
Yes, we talk politics in this thread. We are Liberal. Your always welcome to comment no matter what your politics are but we don't want any hateful comments and no rough language. Debate is always welcomed as long as it is civil. :)

---


Yup , Amurikoa , ya'll heard me pretty fine , we gonna go fur prussident an we ain wanna hear nottin about it , right .
We gonna fix this country , Susan is gonna reducarate them White House and I am gonna makin all new laws , yes sirre !

So I have to think about it a bit an a little what is all this new laws is gonna be but to makin sure ya'll gonna vote for us we start with this one :

LAW NUMBER 1 - TAXREDUCTION FOR THEM POOR !
Yup , ya'll poor in Amurikoa so that will be for sure a couple of million votes , xept for all them black and white trash tax evading country destroying assleeches of a rich so we gonna vissit them with a big shoppin bag to collect some $$$$ .

LAW NUMBER 2 - FREE EDUCATION !
Bout time ya'll Amurikoans is gonna learn somethin , besides how you gonna make a large hamburger .

LAW NUMBER 3 - WIPIN OUT THEM TEAPARTY FOLKS !
No more teaboozin from our taxdollars !

LAW NUMBER 4 - HEALTHCARE THAT WE CAN AFFORD !
So my Cristian country folks , bout time to put your cross where your money is and we gonna take care of eachother .
So we gonna do some teambuilding and first we gonna nuke them insurance corporations that is sucking all the blood , what is left after the operation , out of us and leave us and the 3 next generations after us with a debt that can feed a whole eastern european country if they was on a diet , that is .


LAW NUMBER 5- :? Well I have to think bout that , so we gonna over to Susan , our Vice Prussident and in charge of reducaratin them White House.

So Susan , any thoughts on the color wallpaper ?
texkit1 - January 6, 2012 06:03 AM (GMT)
:rofl :rofl :rofl
Law #5 - NO WALLPAPER! Anyone using boarder wallpaper or wallpaper will be sentenced to removing wallpaper from 100 houses. :noway
Will have to have a red room for Eileen :yes
All for getting rid of tea party crazies. Think we should send them off to their own little island where they can set up their own heartless goverment. Let them take their guns......I am sure they will wipe themselves out.
:D
To help start your campaign for Prez........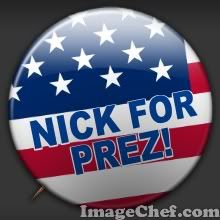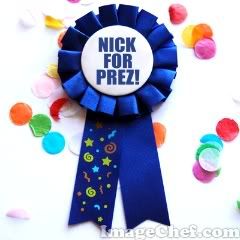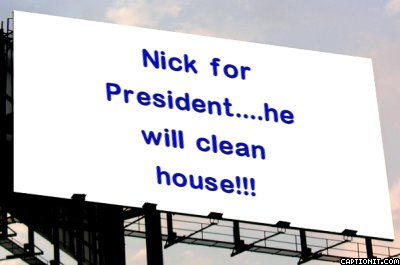 :kiss
Lizard-001 - January 11, 2012 01:06 AM (GMT)
Well , that is a tough law them number 5 :shocked

I likin those buttons , thank you Vice Prussident .


Seems like we up to Willard Mitt Romney , and that is tit bit confusin , the man keeps changin his uppiuns , so he was pro-choise , now he is pro-life .

So I guess we have to be pro-choise then :shrug
He is against them homusessuals , well against them getting married and all , so untill he changes his mind bout that we gonna be for mariage between homusessuals , so all them homusessuals gonna vote for us -:D--:D-
We gonna need some pink buttons too Vice Prussident .

Ok , what groups have we so far , we have them poor and we have them homusessuals and for sure them folks that hate wallpaper , so what group can we target more ?

Any thoughts on that Vice Prussident ?



texkit1 - January 13, 2012 05:57 PM (GMT)
Mitt Romney changes with the wind. He worked for Bain Capital and was involved with whats called leverage buy outs which buys struggling companies..tear the company a part & people losing jobs. Mitt Romney making tons of money. Thinking he wants to get a hold of our struggling country....sell assets & everyone losing their jobs. Romney makes ton & ton of money. What I think is really funny is that Republicans make a huge deal with the President being christian. Complaining Obama is not really Christian but Muslim. Republicans are supporting a Mormon who doesn't share the same Christian beliefs as Protestants & Catholics. Republicans are so two-faced. :rofl :rofl :rofl


We need to get the votes of people who hate banker types like Mitt Romney. Who made lots of money from people losing their jobs. Us the 99% could tell everyone that Mitt is the 1% of the wealthy who gets huge tax breaks, so he doesn't pay his fair share of taxes like the rest of us do. They pay all the taxes and Mitt doesn't. That should really get votes. :yay


No pink buttons for me :no :puke
texkit1 - February 24, 2012 12:16 AM (GMT)
Another Republican Debate last night........:banghead :banghead :banghead


I would love to see Rick Santorum win the Republican nomination for President. Reason why is because he is the most conservative. The Republican party needs to see that a real conservative like Santorum can't be elected for president. Maybe that could help start a purge of crazy conservative tea party people out of the Republican party. Help get more moderate Republicans elected.


Still can't believe the last few weeks the Republicans have been talking birth control using Religious freedom as their excuse. They are trying to cut access to birth control for women. :shame :banghead :crazy
Lizard-001 - February 24, 2012 11:03 PM (GMT)
Rick Santorum , probably the most unbelievable a**hole I ever heard .

He had a speach on the Netherlands too where he said that we kill old people against their will , like involuntairy euthanasia :D
And , he said , many old people in the Netherlands are wearing bracelets where is written , " Please no Euthanasia " .
And to top it off , this killing of our old people is 10% of all our deaths ....

Well good ol' Rick is wrong so let me set the facts straight !
First of all we don't allow people to grow old in Holland , we kill them before .
In the case one might escape we just shoot them or kill them by car or whatever is handy , so no fancy euthanasia .
And because we don't allow grow people to grow old the % is maybe 1% and that is just because they got away .

And for the reccord on the bracelets is written " Please don't kill me " . :harumph


Religious freedom ???? :mad Better call it Sharia law !!!

texkit1 - February 25, 2012 09:33 AM (GMT)
I was watching Rachael Maddow show and saw this story......I'm thinking :wtf
Found an article on it
Here
With Rick Santorum and the rest of them, makes me feel like I am living in the Twilight Zone. :wow The Republican party has gone totally insane. :bonkers You would have to torture me to get me to vote for a Republican.
I just can't understand how Santorum can lie about another country like this. It just blows my mind. :crazy Doesn't he realize we can fact check everything he says. :/
Well I will have to just email Santorum and tell him he has it all wrong. You just kill people before they have a chance to get old......like the old movie Logan's Run. :D
texkit1 - February 25, 2012 06:19 PM (GMT)
Have to add now Rick Santorum is a snob because he wants all kids to go to college. According to Rick.....or should I say Crazy Rick that is bad because college will indoctrinate our kids and make them liberal. :shocked What was also bad about this is the crowd he was talking to were cheering him when he said college was bad for our kids. :crazy

Other outrageous Crazy Rick quotes.........

*Marriage as an institution that exists only between a man and a woman must be upheld, he said. "In every society, the definition of marriage has not ever to my knowledge included homosexuality," Santorum said. "That's not to pick on homosexuality. It's not, you know, man on child, man on dog, or whatever the case may be. :dog


*"One of the things I will talk about, that no president has talked about before, is I think the dangers of contraception in this country," Santorum said. "Many of the Christian faith have said, well, that's OK; contraception is OK. It's not OK. It's a license to do things in a sexual realm that is counter to how things are supposed to be." :dak
(Yes Crazy Rick we want our president to tell us women birth control is bad)


*"I don't want to make black people's lives better by giving them somebody else' money. I want to give them the opportunity to go out and earn money."
(This is Crazy Rick saying I don't want my tax money to help poor people especially if they are black. From Crazy Rick's point of view all poor people are black)


*The state Supreme Court there ruled, 4-3, that same-sex couples can marry." Santorum went on to say, "Is anyone saying same-sex couples can't love each other? I love my children. I love my friends, my brother. Heck, I even love my mother-in-law. Should we call these relationships marriage, too?" :wtf


*"If they want to negotiate with Israelis, and all the people who live in the West Bank are Israelis, they're not Palestinians. There is no 'Palestinian,'" Santorum said. "This is Israeli land."(Really Crazy Rick......Palestinians don't exist.....are they a figment of our imagination.....wow Crazy Rick as president I am sure there will be more wars)


*"Look at the political base of the Democratic Party: it is single mothers who run a household," Santorum said. "Why? Because it's so tough economically that they look to the government for help, and therefore they're going to vote. So if you want to reduce the Democratic advantage, what you want to do is build two-parent families, you eliminate that desire for government."
(It's all your fault single Moms for government programs that help people :spank)


*"Watching President Obama apologize last week for America's arrogance—before a French audience that owes its freedom to the sacrifices of Americans—helped convince me that he has a deep-seated antipathy toward American values and traditions."
(So Crazy Rick in your mind President Obama being humble and admitting we are not prefect, we have made mistakes is against our values and traditions. So I am guessing you taught your kids to never be humble, never admit to a mistake and never to say your sorry. Crazy Rick I think the French people sacrifices lives also in fighting for their freedom during WWII)


*said gay marriage "is an issue just like 9/11. We didn't decide we wanted to fight the war on terrorism because we wanted to. It was brought to us. And if not now, when? When the supreme courts in all the other states have succumbed to the Massachusetts version of the law?"
( So in Crazy Rick's mind fighting terrorism is the same as fighting gay marriage)


I am sure Crazy Rick has more outrageous stuff to say to us....looking forward to it. :/



I am still shocked by him saying Dutch people are killing old people. You know Crazy Rick you call yourself a Christian. In fact you act like you think your a prefect Christian who knows all and can do no wrong. So I'm guessing Crazy Rick you follow all the Ten Commandments like #9 Thou shalt not bear false witness against thy neighbour. From my understanding that means you shouldn't lie. What you said about the Dutch people is bearing false witness against your neighbour....that means your lying about them. Straight to hell you go :evil


:girldrink
Lizard-001 - February 26, 2012 09:21 AM (GMT)
This is how we deal with it :D


Santorum is wrong. It's actually much worse than that. I remember this one time my grandmother got so high on drugs at a government organised prostitution party she lost her 'Please don't euthanise me' bracelet. She was euthanised on the spot. Also, children under 12 are required to wear a 'Please don't abort me' bracelet. Only if they don't want to be aborted obviously.

Well there you have the ugly truth. I have to go now as I have to drive my GF to her weekly abortion. Bye!






texkit1 - February 26, 2012 05:26 PM (GMT)
:rofl :rofl :rofl

You should of added we are also converting to Islam and dream of one day coming to America where we can get food stamps. :giggle



This is how I been dealing with Crazy Rick.......

Santorum said I won't reach out to Minorities by talking about food stamps which really means Crazy Rick doesn't want his tax money to go to black people who should get off their lazy butts and get a job and buy their own food. :wtf


My response to his comment on food stamps.......

Jesus said "Depart from me because I was hungry and you did not feed me, I was thirsty and you did not give me to drink, I was sick and you did not visit me." These will ask Him, "When did we see You hungry, or thirsty or sick and did not come to Your help?" And Jesus will answer them, "Whatever you neglected to do unto one of these least of these, you neglected to do unto Me!"
Rick food stamps are about making sure no one goes hungry no matter who you are. 

I like showing Crazy Rick is no real christian :evillol
texkit1 - February 28, 2012 06:35 AM (GMT)
New from Crazy Rick........

"President Obama once said he wants everybody in America to go to college," Santorum said. "What a snob."


:wtf


Lizard-001 - February 28, 2012 10:29 AM (GMT)



"The reason Social Security is in big trouble is we don't have enough workers to support the retirees. Well, a third of all the young people in America are not in America today because of abortion."





But then again because of all this abortions , you have also less retirees :D


texkit1 - February 28, 2012 07:37 PM (GMT)
I bet all of you over there think Americans have gone insane. What is really crazy is that you have people sitting there listening to these crazy Republicans, clapping and cheering. Not only do we have Mitt & Crazy Rick but this nut Ron Paul. He believes there should be no government. He is a Libertarian but running as a Republican because he would never get elected if he said he was a Libertarian. Young people like Ron Paul because of his anti-war and pro-drug laws. They don't realize that Ron Paul is not just anti-war but anti involvement in anything outside of the USA. He believes we shouldn't of even gone into Europe and fought against Hitler. :faint :shame


I think I need a few of these :margarita :margarita :margarita


:giggle
Lizard-001 - February 29, 2012 12:24 AM (GMT)
I can send you some Dutch "tobaco" :smokin

Ofcourse it is strange to see this brainmalfunction in your country but every country has this weird group of people that don't think and just accept all bs for various reasons .

In the Netherlands we have our own shame with the PVV ( Party For Freedom ) , well the freedom consist mostly by wanting the freedom to kick out as many "foreigners" ( read : muslims ) as possible .
Muslims are bad people , that is basicly the message that the PVV is sending and a lot of Dutch people seems to agree cause the PVV is part of our governement , we have a different democracy as yours , more political parties that fuse together to get a majority .

But it is not only muslim people they wanna kick :D
We have more and more Egyptian geese in our country , probably because of climatechange or whatever .
Ok , one of our latest political discussions is about these Egyptian geese , I guess you see where this is going to :rolleyes
Indeed , the PVV feels strongly about killing all this geese cause they are foreign geese and if they could get away with it they would probably say these are muslim geese too :ban


So you thought your people were strange ..... :D





texkit1 - February 29, 2012 12:44 AM (GMT)
Geese :rofl :rofl :rofl

We have Canadian geese fly over at times. Don't know if they are here legally or not. Haven't heard of them taking our jobs. :giggle

It is good to know you have crazies to in your country. I guess they help us look more sane and intelligent. :D


Today was another Republican primary in the states of Michigan and Arizona. In Michigan you don't have to be a register Republican to vote in their primary. So there are Democrats voting for Santorum, hoping it will help him beat Mitt. They are trying to keep Crazy Rick in the primary election. The longer it goes the more it is hurting the Republican primary. The better it is for Obama. All this craziness does make you laugh. :lol

I watch out for those foreign Geese......they may be trouble makers :D


Updates: Crazy Rick lost Michigan. They believe it is because of his problem with women voters and also Catholic voters because he said that the 1st Catholic president made him want to :puke. Don't think the Catholic voters liked that and don't think the women want him messing with their birth control. :giggle
Good news is, it was close so Crazy Rick is still in it causing trouble for Mitt. :goteam
texkit1 - April 2, 2012 08:44 PM (GMT)
Who says politics has to be so serious all the time......Leave it to the Ann Romney to give us a laugh. :D


On a radio interview the radio host said to Mitt Romney's wife Ann that Mitt is "too stiff" on the campaign trail.

Ann said defending her husband "I guess we better unzip him and let the real Mitt Romney out"



:wow :noway :rofl
irisheyz - April 2, 2012 09:40 PM (GMT)
texkit1 - June 9, 2012 07:13 PM (GMT)
Oh my......I think Mittins is the most dumbest politician around. :/


Obama gave a speech about we need to help states so they don't have to have lay offs of teachers, firefighters and police because of tight budgets. That we should be hiring them.

Here is Romney's response.........

Romney said of Obama, "he wants another stimulus, he wants to hire more government workers. He says we need more fireman, more policeman, more teachers. Did he not get the message of Wisconsin? The American people did. It's time for us to cut back on government and help the American people."


So Romney just told all teachers, firefighters and police they are big government and time to cut back on them. By the way Mittins they are part of the American people too. Funny how he is saying jobs, jobs, jobs but no jobs for teachers, police and firefighters. Great way to gain support from them.

:shame

By the way Mittins that is not what the Wisconsin elections said but that's another story.
texkit1 - June 14, 2012 06:26 AM (GMT)
Well Nick be prepared if Romney wins, you will see the USA economy get worse, which means rest of the world will get worse. Why would an outright liar like Mitt win the elections. One...money...he will have lots of it. Wallstreet/Banks and billionaires are backing him. Second reason is that Republicans are making it harder for people to vote. They are putting in laws to make it harder for the poor, college students and minorities to vote. They are making hard to even sign up new voters. The reason for suppressing people being able to vote is because they are trying to stop Democrats from voting. Never thought I would see the day when Republicans are crying :cry that Obama is taking away our freedoms that the truth is Republicans are the ones taking away our freedom to vote.

Just feeling very frustrated right now. :banghead

I thought people would have learned after 8 yrs of Bush. I guess they want to go back to having a president just like Bush again. Romney's economic plan is the same as Bush. The scary part is that Romney has Bush people as his advisers. So they are the ones who supported starting the war in Iraq are working for Romney now. I'm worried about a war with Iran if Romney gets in.

:shame
Lizard-001 - July 23, 2012 11:57 AM (GMT)
I think Obama still has a good chance to win , his methods to campaign are more modern , he makes use of all social media and the reps are just starting to discover this .


I understand you are frustrated because many American just don't seem to grab the issue here and let themselfs be deluded by hollow phrases like - freedom of this and that .
I think Americans are very traditional , they problaby have this feeling that tradition = safety = all ends well .


All needs to get less political , and more practical .
If the American people are adressed with practical words , that real life issues are adressed and talked about in simple but real language , economic vission is explained in simple and practical way , that'll win a lot of Americans .
If they understand how they will bennefit from this healthcare plan ( no more huge moneydebts that keep you poor from the rest of your life , so now more money to develope yourself and local economies ) .

If Obama can avoid wasting time on adressing the attacks of the reps and use his campaign time to explain , to talk , be more honest and less the - we can change - mantra , I think that will come across .

I don't think the Americans are stupid , but they are tired and the lack of choice , the political campaigns that have nothing to do what they are going through , and it only direct them to a want of safety and that is for many still tradition and it is this tradition that is exploited and abused by the reps .


And that is how Sue sees it :D



irisheyz - July 23, 2012 06:08 PM (GMT)
QUOTE
And that is how Sue sees it :D


:rofl

Good to see you Nik, I've missed your beautiful self!



:love
texkit1 - July 23, 2012 08:36 PM (GMT)
Hey Nik :exicted
That last post I was feeling more frustrated but feeling better now. Obama is doing an excellent job showing the truth about Mittins (Mit Romney). People are starting not to hate health care as much because they are learning more about it. I still worry about Mittins huge amount of money and Republicans making it harder for people to vote in the states.
I am liking Obama showing how much of a liar Mittins is. What is crazy when you catch him in a lie, Mittins lies even more. I don't think he even knows what the truth is.
I do agree with talking about issues in more practical terms. Republicans love using their hollow phases like freedom and the Constitutions. Of course none of them can name what freedoms they are losing because of Obama and I think they would fail a test on what is really in the constitutions. :giggle
I guess we will see how smart or stupid Americans are on election day.
Mittins will be heading to Europe soon. So you can look forward to seeing him on your news. Hope he says lots of stupid stuff so you can laugh at him. :giggle
Mittins quote:
I'm not familiar, precisely, with exactly what I said, but I stand by what I said, whatever it was.
:rofl yes, he really said that :giggle
Political Funnies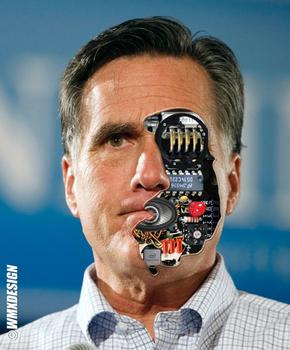 :borg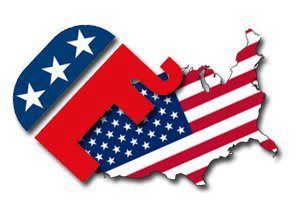 :Nik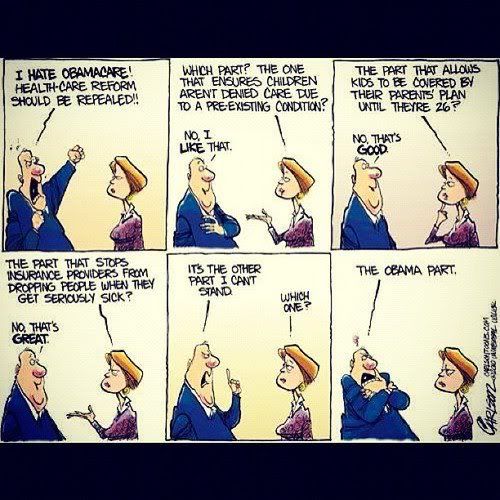 :shake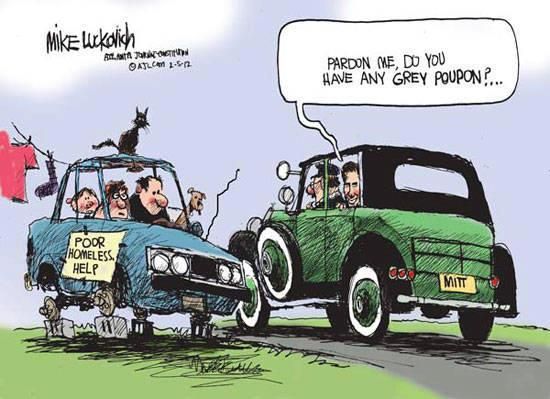 :girldrink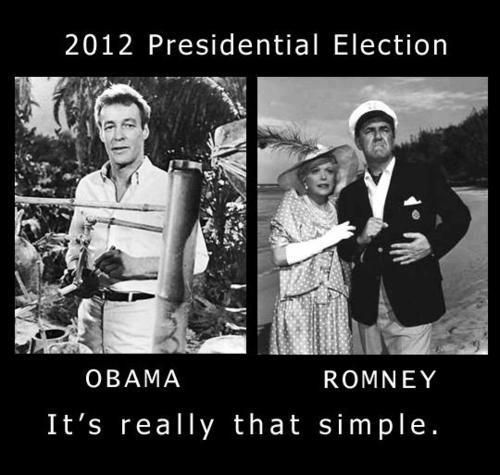 :dunce
:D
Lizard-001 - July 25, 2012 12:14 PM (GMT)
Hi Eileen :love


Obama has lot of money too ánd lot of volunteers , and like I said his use of Twitter and all social media is relative cheap and has huge parameter .

But ok , if he will be elected again another problem will be for him and that is about taxes everyone has to pay to overcome part of this crisis and I don't think Americans will love him for that .
It could help if he would start with the rich and their compagnies and I think he will , I hope so anyway .

Mittens is a big joke here in Europe , it is almost like the reps don't do a serious attempt to compete with Obama .



texkit1 - July 26, 2012 09:17 PM (GMT)
Yea, I hope he is re-elected again. Worried about Mitt with foreign policy. He has Bush people advising him. :wtf The same ones who got us into war with Iraq. When they talk about Russia, they call it the Soviet Union. :shame

I am hoping the debates will help because Obama is very knowledgeable, Mittins isn't. I'm sure Mittins will have some memorized answers but he always screws up when he has to think for himself and answer questions without a script.

He is already making Britains not too happy, now that he is in England. :Caroline Looking forward to more gaffs. :D

Agree with you on the taxes. Unfortunately Republicans and tea party have made taxes evil. People are not seeing the bigger picture that taxes is what keeps our country going. Without them there would be no schools, police, firefighters, roads......everything that keeps our cities and government working. I think we can get mad at how taxes are spent like the huge amount we spend on defense. Just think if we spent all the money from defense on education.....we be a super smart country. Of course Republicans don't want that, then no one would ever vote for them. :giggle



QUOTE
Mittens is a big joke here in Europe , it is almost like the reps don't do a serious attempt to compete with Obama .

Surprised myself that Republicans went with Romney because so many of them don't like him. :/ Other well know Republicans refuse to run. Some say it's because of the tea party type of people. Others didn't think they could really beat Obama. Who knows. :shrug

:hula

texkit1 - July 27, 2012 10:18 PM (GMT)
Update on Mittins in :Caroline


* Insult Britains on the Olympics while in their country :wtf
* Forgot Labour leader Miliband name....called him Mr Leader :giggle
* Told everyone he met with British secret service, which is a no no in their country. :/


British newspaper called him "Mitt the Twitt" :rofl

They called him a "Wazzock".......had to look that word up. Wazzock is an idiot or daft. Mild insult, one who is foolish, one who has made an arse of themselves, one who is rather daft.



Obama is going to kill Romney in the Debates. :chainsaw
texkit1 - August 12, 2012 05:50 AM (GMT)
Well, Romney chose his running mate.......Paul Ryan. :/

A Lot of people don't know much about Paul Ryan but they will be learning soon. Ryan created a budget plan for congress.

Privatize Social Security. So instead of the government handling your retirement money, they give it to the banks. :wtf

Get rid of Obama's health care plan

Turn Medicare/Medicaid into a voucher program. Where the government gives you only so much money to go out and buy your own insurance. Of course that voucher wouldn't have enough money on it to pay for full insurance, so seniors/poor are going to have to pay out of their pockets. :$


Paul Ryan got a lot of negative feed back on changing Social Security and Medicare so now he is saying they won't change it now. The fact is Republicans hate Medicare/Medicaid and Social Security. Their goal is to get rid of it. So I for one don't trust Romney/Ryan staying true to their word.


They also want more tax cuts for the rich. So how can you pay for those tax cuts, by raising the middle class and the poor taxes. Plus cut social programs and education.

They want to spend more on defense. :shame

They think it is a bad idea to end the Afghanistan war.

They want to deregulate Banks and wall street again. :banghead


What they want to do is take us back to Bush's economic plan. Everything Romney/Ryan want to do is like Bush. I guess they didn't learn the first time around so that have to do it again. :wtf



I hope Obama gets reelected or we are screwed...so is Europe. :tantrum




texkit1 - August 29, 2012 10:45 PM (GMT)
Republican National Convention is going on now. :chainsaw

Tuesday night 8-28-12

Many Republican governors talked about how good their state is doing....leaving out that they are doing good under Obama. Like the governor in Ohio bragged about his state doing well, not mentioning that thanks to Obama saving the auto industry.

Ann Romney spoke and it is clear she loves her husband. She tried to reach out to women. She did well with that until she said she "loves women". :wtf Than you could see she was trying to hard. What was missing was any real stories about her, Romney and their family. So her speech was hit & miss.

Chris Christie was the key note speaker. He is usually a good speaker. Even though I think he is so wrong on issues will give him credit for fighting for what he believes in. As a democrat you always worry when Christie speaks. :giggle Not last night, he's speech wasn't that good. :no It started out good, but it was downhill after that. He was negative and he came off as angry.

This was the weird thing las night. Ann Romney said she wanted to talk about love :luv tonight. Than Christie came out saying it's not love but about respect. :wtf :giggle

Another weird thing last night is that hardly any of the governors actually talked about Romney. They all talked about themselves. At the end of their speeches they mention they like Romney and support him. The only ones who really talked like they like Romney is his wife and governor Nikki Haley.

It actually was kinda boring last night. Found myself readying my iPad book Hunger Games: Mockingjay :bookworm



texkit1 - August 31, 2012 05:38 AM (GMT)
Wednesday Night at the RNC 8-29-12



Paul Ryan's speech needed a lot of fact checking.

Ryan blamed Obama for a GM plant closing in Wisconsin. It pretty much closed in 2008 laying off 2000 employees when Bush was president. It fully closed in 2009 with laying off 54 ppl who were building Isuzu.

Lie from Ryan and Republicans that Obama cut 716 billion from medicare. The 716 billion come from savings over the next 10 yrs from stopping fraud in medicare and give away to insurance companies Advantage Care who are making health care cost higher while making a profit for themselves.
What is really hypocritical from Ryan is that he has the same cuts to medicare that Obama does in his budget. Except Obama savings goes towards health care. Ryan's saving go to help pay for tax cuts for the wealthy.

Claimed the stimulus didn't work even though he asked for stimulus money for his state. It did worked for his state of Wisconsin.

Ryan was part of the bipartisan debt commission. Ryan said he the debt commission gave their recommendation to cutting the deficit and Obama did nothing. Actually Ryan voted against it because it would mean cuts in defense spending and raising revenue to cut the deficit. You can't accuse Obama for doing nothing when you did nothing also and refused to work and refuse to compromise with Democrats.


I know there was a few more.....but I pointed out the most important stuff that Paul Ryan fudge the truth on.

Paul Ryan has no room talking about deficits since he was in congress and voted on 2 wars and Bush tax cuts. Which was the biggest reason for the deficits.


texkit1 - September 1, 2012 04:43 PM (GMT)
Thursday night at the RNC 8-30-12

Well the night didn't go as planned and I guess as a Democrat that is a good thing. :giggle
Romney tried to seem more human :borg and they made a nice video of him with his family. Majority of the national audience didn't see the video because of their secret :secret surprise guest. :wow
Mitt's speech started out talking about his family. I had a hard time with this especially when he talked about his parents, I think it was because I felt like he wasn't really comfortable sharing this. I knew he was doing it so we would like him. :/ Than his speech went more negative. He lied about 716 billion savings for medicare. You knew he was lying when he said he wanted Obama to succeed. Than he said the weirdest thing...."President Obama promised to begin to slow the rise of the oceans and heal the planet. MY promise … is to help you and your family," Of course his GOP audience laughed. Don't know if someone told Mitt but rising oceans are not good for people, for families. :shame
Mitt talked foreign policy.....so from him war with Iran :afraid and lets bring back the cold war because Russia is a danger to us. :wtf He said nothing about the war in Afghanistan. He didn't even mention our military which really surprised me because Republicans always like showing their support for our troops. :shrug
Speech over......balloons fall. :shake
Republican party goal has been to see Obama failed. There were meetings after he was elected to strategize on his failure. They came out with a plan of saying no to everything even when it was a Republican idea that Obama was supporting. They even said their goal was for Obama to fail to make sure he was a 1 term president. So for Mittins to say he wanted to see Obama succeed was a huge lie. The Republicans never cared about us, they only cared about getting back into power for that to happen Obama had to fail...which means we had to fail.
Mitt said he had a 5 point plan. He gave no details how is going to make that work. How this is going to create jobs. Mitts job is now to explain how his 5 point plan will work, he needs to give more details. So far the things we know he wants to do is cut taxes for the wealthy and corporations. Get rid of regulations for Wall Street and our environment. Raise defense spending. If I remember that's what Bush did. :giggle
How is he going to pay for his tax cuts....by taxing the poor because they don't pay their fair share. :wtf Cuts to social programs.
All I know is Mittins is a phony who will say or do anything to get elected. What bothers me the most about him is lying is a part of who he is.
The surprised guest is getting its own thread. :D
Next week is the Democrats turn.
:girldrink
irisheyz - September 2, 2012 01:28 AM (GMT)
The special guest....:wtf


:naughty
texkit1 - September 2, 2012 07:22 AM (GMT)
Special secret guest at the RNC
Here
:giggle
:poke
texkit1 - September 7, 2012 10:28 PM (GMT)
The DNC - Democrat National Convention

My thoughts on it.....of course I'm a wee bit bias.... :giggle

Was really good.....was surprised how good it really was. Majority of speeches were really good. Just a few boring ones. Was a very :exicted enthusiastic crowd.


I say the next governor of Texas needs to be keynote speaker Julian Castro, mayor of San Antonio. :shake He gave a great speech. He would be great against Rick Perry. Perry couldn't chicken out a debate against Castro.

First Lady Michelle was amazing wonderful speech. Have to say she has great arms to be able to be on stage with a sleeveless dress.

Sister Simone Campbell (Nuns on the Bus) was great. Never thought I would see a nun at a Democrat convention. :giggle

VP Biden gave a good speech but I felt it dragged at times...it felt too long at times. I do like how when Biden talks to you, more than giving a speech. He makes you feel like your at the kitchen table talking.

Bill Clinton was awesome. I just love how he explains things. It is always fun how he just make Republicans look wrong without being hateful about it.

President Obama's speech was more down to earth with more humanity in it. He really couldn't give the same kind of speech like last time because he has learned that he has a Republican party out to destroy him. With tea party people who are nuts. I thought it was a good end of a great convention.



Best lines....

Obama - After all, you don't call Russia our No. 1 enemy -- not Al-Qaida, Russia -- unless you're still stuck in a Cold War mind warp.
Romney has actually said Russia is our No. 1 geopolitical foe and he also said they are our No. 1 adversary. :wtf

I'm no longer a candidate but I'm President.

Julian Castro - "I don't think Gov. Romney meant any harm. I think he's a good guy. He just has no idea how good he's had it."

"The American dream is not a sprint, or even a marathon, but a relay. Our families don't always cross the finish line in the span of one generation. But each generation passes on to the next the fruits of their labor. My grandmother never owned a house. She cleaned other people's houses so she could afford to rent her own. But she saw her daughter become the first in her family to graduate from college. And my mother fought hard for civil rights so that instead of a mop, I could hold this microphone."

Governor Deval Patrick- it is time for Democrats to grow a backbone and stand up for what we believe.

Bill Clinton -
"Now people ask me all the time, how we go four surplus budgets in a row. What new ides did we bring to Washington? I always give a one word answer: Arithmetic."

"In Tampa, the Republican argument against the president's re-election went something like this: We left him a total mess. He hasn't cleaned it up fast enough. So fire him and put us back in."

Sister Simone Campbell, executive director of the Roman Catholic Social Justice Organization - "First, Mitt Romney and Paul Ryan are correct when they say that each individual should be responsible. But their budget goes astray in not acknowledging that we are responsible not only for ourselves and our immediate families. Rather, our faith strongly affirms that we are all responsible for one another. I am my sister's keeper. I am my brother's keeper."

Well, I could do more....there was so many good ones. :hula



There was a difference in both convention. The Republican convention were all bound together by their hate for Obama. It made me think about when Bush ran for his 2nd term against Kerry. I liked Kerry but to be honest was I'm inspired from Kerry or really excited about him...no not really. What really drove me was my dislike for Bush. I felt anger at Bush for his lies on Iraq. At the DNC the speakers talked about Obama. At the RNC the speakers talked more about themselves than they mentioned Romney at the end of their speeches. I really think Mitt Romney thinks he can win with just hatred for Obama with a slow economy. He doesn't think he has to explain his plans and he doesn't have to talk about Afghanistan.


Next the debates. That will be fun. I hope Obama can knock Mitt off his memorized talking points because that will show Romney's true colors and lack of knowledge. :D


:girldrink
texkit1 - September 10, 2012 12:29 PM (GMT)
Mittens is already flip floping....again......I will repeal Obamacare......no I will keep parts of Obamacare. Than he said he always planned on replacing Obamacare with a plan of his own. So his plan for replacing it is by keeping parts of Obamacare. :giggle Mittens your talking in circles. :crazy
Someone needs to ask Mittens how he plans to keep health care cost down.
I already know what he will say....torte reform. That doesn't work. We already have that in Texas, they said health care cost would go down. Guess what our insurance rates keep going up. It cost us more for health care now than it did before torte reform. :shame
More "circle" talk from Mittens.......
He said he is not cutting taxes for the wealthy.
Than he said he wants to give all Americana's a 20% tax cut. :wtf
But he was going to cut out loopholes and deductions for high-income earners to pay for his tax cuts. Of course he couldn't answer the question what loopholes he would cut.
Saying he would cut taxes for the middle class while keeping tax rates the same for wealthy Americans. But Mittens you said you would cut taxes to all Americans by 20%. I know you cut rich people's taxes but at the same time get rid of the non specific loopholes so they actually pay more taxes. Now Mittens, I don't think the Billionaires supporting you want to pay more taxes. :giggle
Political Funny for today...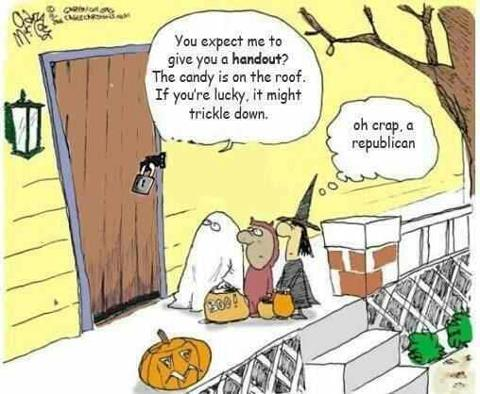 Lizard-001 - September 17, 2012 12:54 AM (GMT)
How I see it is that , how the situation is now in America , Obama will be the least harmfull man to vote on and a larger groups of Americans will bennefit from his politics , so that is why I am pro Obama .

But like Bush jr and probably many other presidents , Obama is also just another puppetboy.
The people that are really in power and for a great deal responsible for this crisis are the same people that are in Obama's governement , as for example in Ronald Reagans or Bill Clinton;s governement .

And as long as I see the same names , apointed time after time and it doesn't really matter if they are apointed by a democrat or a republican , I don't care about any politician one way or another , same thing in my own country really where the same thing happens , only difference is that it don't affect the whole world .

I understand your passion about politics , I have the same in a way cause I greatly feel for power that seems to be for an equal society , in safety , income , chances for education , etc .

But maybe the difference between you and me is that I have no ilusion left whatsoever , I still vote , I still donate to my political party but I see it as damage controll and that's all really .




texkit1 - September 17, 2012 04:25 AM (GMT)
I think I am more realistic than you realize. :yes

I am more optimistic than you :hula


I know even if Obama wins and there is still all these crazy Republicans in congress which means that not much will get done. What Obama will do is prevent the crazy Republicans from making things worse. Plus we don't need Bush people back in charge of foreign policy.

There is way too much money in politics which is one of the major problems. Obama taking money from corporations/banks/wall street is like a necessary evil because without money you won't win. Until laws are changed this will not change. The only hope of change is with Democrats.

Of course with this election more banks/wall street and corporations are supporting Mittens this time. But they will cover their bases and give to Obama also especially if they think he will win.

I do think Obama made some bad choices. I think he went with too many people that were with Clinton, like Larry Summers. Timothy Geithner was a huge mistake. Summers is gone now and I won't be surprised if Geithner is gone after the election. I also think he took to many good strong people out of congress where he needed them more than for his cabinet. Rahm Emanuel was another bad choice. I do think Hilary Clinton was a good choice for Sec. of State.

I think one of our major problems is congress. I believe if we had stronger liberal/progressive Democrats in congress more would get done. Obama had ordered Gitmo closed but congress stopped him, which were Democrats and Republicans. Obama would have been way more liberal if Democrats in congress had been.

The military spending has to be cut. Some of it will be cut under Obama but it is still not enough in my opinion. I think we should get out of Afghanistan now. I know it's not easy. It took 18 months just to get our equipment out of Iraq so that we could end that war.

There use to be a few decent Republicans but now they are all loony. :crazy The tea party is the worst thing that has ever happened to this country. They are really a joke. Don't know how much longer they will last because they are becoming the political party of white people, especially white males. Kinda hard to win elections when minorities won't vote for you.


Favorite quote...

"This is a government of the people, by the people, and for the people no longer. It is a government of corporations, by corporations, and for corporations."
— President Rutherford B. Hayes


Even though their is some things to fix with Democrats, I do think they are still are best hope. We just need more than a Democratic President, we need strong Democrats in congress. Don't see a 3rd party as an option.


Hi Nick :friends :kiss2 :hula
texkit1 - September 18, 2012 03:26 AM (GMT)
Well Mittens got caught saying what he really thinks of half of all Americans who are voting for Obama. He's talking to his wealthy donors while someone there was secretly recording him. :D
Romney said..
There are 47 percent of the people who will vote for the president no matter what. All right, there are 47 percent who are with him, who are dependent upon government, who believe that they are victims, who believe the government has a responsibility to care for them, who believe that they are entitled to health care, to food, to housing, to you-name-it. That that's an entitlement. And the government should give it to them. And they will vote for this president no matter what…These are people who pay no income tax.

Romney went on: "My job is is not to worry about those people. I'll never convince them they should take personal responsibility and care for their lives."
http://www.motherjones.com/politics/2012/0...vate-fundraiser
Mitt has already come out and has said he spoke off the cuff and didn't say what he meant to say elequine enough. So Mittens has already come out not denying this tape.
I think there is a serious problem with some of the wealthy in this country who hate the idea that their taxes is going to feed, house and provide health care for people. All they want is for government to benefit them and no one else.
Mittens also said the middle class are the ones who make 200,000 to 250,000 a year. It we were making that much a year, I would feel rich. I bet all the middle class would love to be making that much a year.
More secret videos to be released :gum
texkit1 - September 19, 2012 12:27 AM (GMT)
Who are the 47% that Mitt said will never vote for him because they don't pay any taxes.....

Well it's actually 46% but who are these people who Mitt thinks are freeloaders who don't pay their fair share of taxes. These people are the elderly, lower income workers, poor, disable, students and the jobless. You have workers through tax deduction that end up paying no federal income taxes. It is false to believe that none of these people pay no taxes. Working people still pay payroll taxes. Everyone pays sale or state taxes. These people on average pay at least 15%, maybe more in taxes. Mitt Romney released one tax return, it wasn't even a complete tax return showing he paid only 13.9% in taxes. Of course lets be fair this doesn't include his state or sales taxes but still you can't complain about others not paying taxes when you hide your money in off shore accounts to avoid paying your fair share of taxes.

You do have 7000 of the wealthy who paid no taxes. Plus you have corporations like Exxon, GE and Bank of America who paid no taxes. Mitt I am sure these wealthy people & corporations who didn't pay any taxes will vote for you. :D


:gum
texkit1 - September 22, 2012 04:44 AM (GMT)
I was finally getting this song Gangnam Style out of my head......but saw this on youtube. :giggle
Vote Obama Style
:hip
This one is really funny. The guy who made it isn't pro-Obama or Mittens.
Obama Style
:bunnyshimmy
Now this song will be in my head for days.
:disco
texkit1 - October 4, 2012 02:34 PM (GMT)
The 1st debate was last night.
The frustration of the debate is that Mitt carpet bomb Obama with lies & half truths. Which help Mitt look like he was strong in the debate. Which also made it hard for Obama to keep up and trying to explain the truth. Which made Obama look more weak. The moderator allowed Mitt to bully him and to lose control of the debate. At times it felt like they were talking in circles. Their was the illusion of Mitt giving specifics and he didn't.
Obama needs to tell Mitt...sir with all due respect fact checkers will prove everything your saying now is lies and half truths. Call Mitt on his flip flops. Remember Mitt lies at the drop of a hat.
So the next debate Obama has to expect Romney to lie and deny everything he has said in the past.
Liberal commentators said Obama should of called Mitt on his lies. I believe he tried to. The thing is Mitt would of kept saying that's not true. What Mitt was trying to do is look strong against the president. His goal was not the truth, because Mitt wouldn't know the truth if it hit him the face.
Mitt won on style in the debate but he lost with facts.
You know politicians will over promise stuff when they run for elections. They all do, Republicans and Democrats. We all know there is no way for all promises to be kept because the other side stops them or sometimes the reality of it will just not work. I have never seen a candidate who just lies so much. His flip flops are his lies. Mitt will say anything to get elected. To get elected as governor he was pro-choice. To be the nominee for Republican party he was pro-life and would support the personhood bill. Now that he is running for president for the general election he is pro-life but believes in abortion in cases of rape, incest and life of the mother.
He lied last night on his tax plan. He has been saying he would cut 20% taxes. If he does that 5 trillion dollars would be added to the deficit. When Obama called him on this, Mitt lied and said he wouldn't do that.
I could go on and on of lie after lie Mitt has told. This man has no conscience.
I do think there was a time we saw the true Mitt Romney. When he spoke to his wealthy donors thinking he was safe to say what he really believes....
Mitt said
"There are 47 percent of the people who will vote for the president no matter what. All right, there are 47 percent who are with him, who are dependent upon government, who believe that they are victims, who believe the government has a responsibility to care for them, who believe that they are entitled to health care, to food, to housing, to you-name-it. That that's an entitlement. And the government should give it to them. And they will vote for this president no matter what. These are people who pay no income tax. My job is not to worry about those people. I'll never convince them they should take personal responsibility and care for their lives."
Video Here
I do give Mitt credit that his strategy of last night debate of looking strong while denying everything worked for him. Today everyone is talking about his strong debate and not talking about the 47% he calls freeloaders. Mission accomplished Mitt.
I expect him to try this again in the next debate. The problem is that the next debate will be a townhall type of debate. So that will be a little bit harder for him to do. Obama needs to not try to explain all his lies. Go after one or two lies and keep hammering on it. I know Obama is too much of a gentleman to call Mitt a liar and don't think he will but I think he needs to.
Still can't believe people are willing to vote for this liar. :wtf
Oh, I think Bill Clinton should help Obama with the next debate because he puts things in more simple terms. Obama is a teacher type who tries to explain everything, which doesn't work so well in debates.
:girldrink
texkit1 - October 5, 2012 12:30 AM (GMT)
Last night in the Debate Mitt Romney was asked what he would cut in government spending to reduced the deficit. His answer......
I'm sorry, Jim, I'm going to stop the subsidy to PBS. I'm going to stop other things. I like PBS, I love Big Bird. Actually like you, too. But I'm not going to—I'm not going to keep on spending money on things to borrow money from China to pay for. That's number one.
So he is willing to cut PBS but unwilling to cut 4 billion in subsidies to big oil companies. Plus he wants to spend 2 trillion more on defense. Cutting PBS would only save 444 million dollars. :wtf
Of course people had some fun with Mitt firing Big Bird :giggle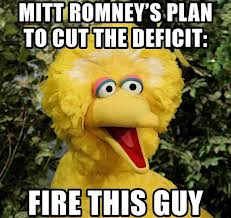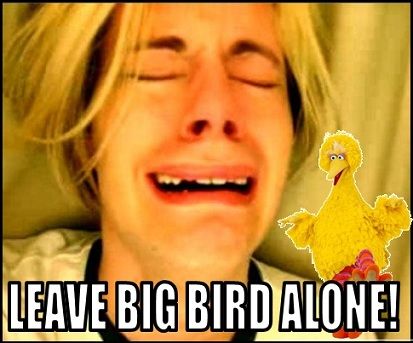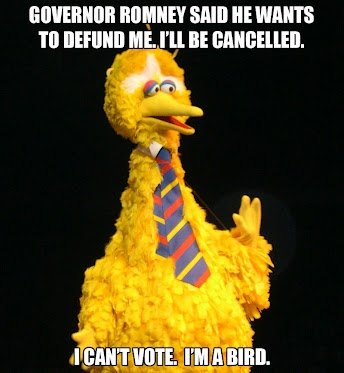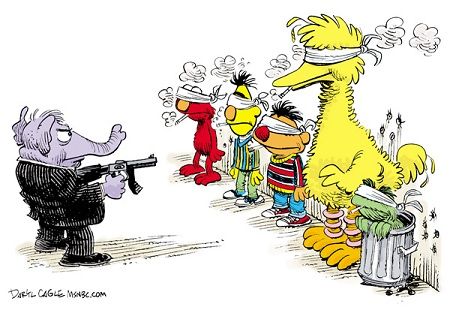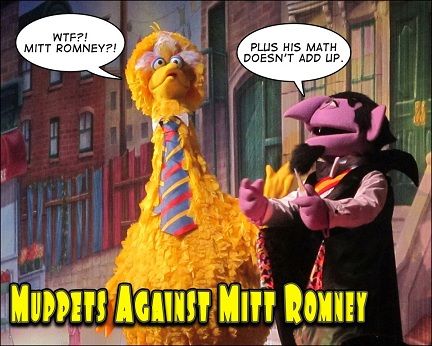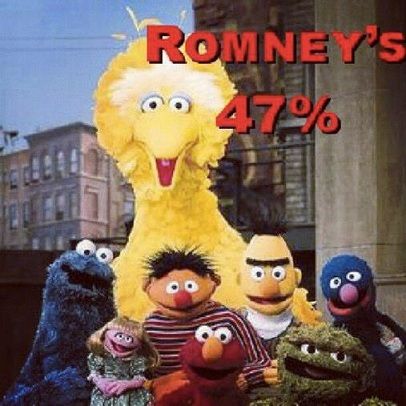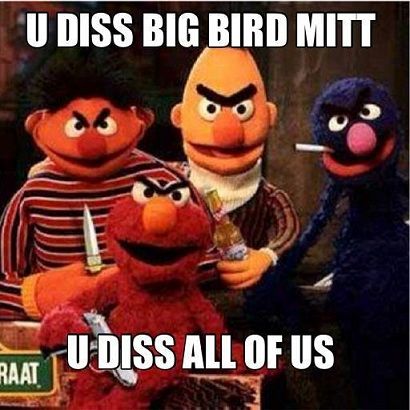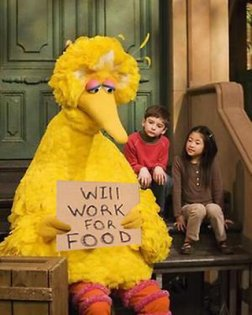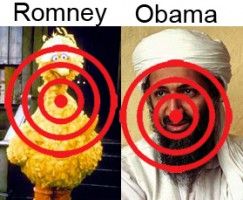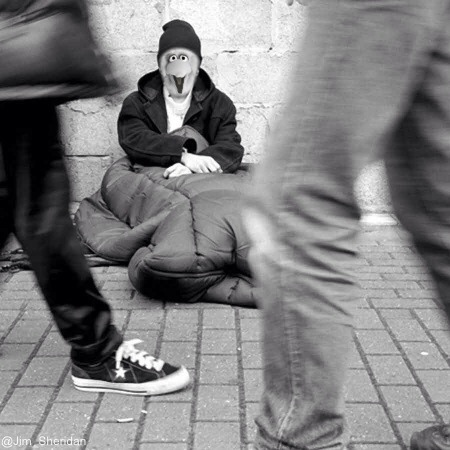 :rofl
:chainsaw