Ah yes, Michigan was a GREAT place to finish up this leg of the tour. ;) Reading Bo's blogs on bobice.com sounds like he would agree. I told ya'll it was a beautiful venue.
<<--- Isn't this GREAT!
Here's my recap...finally...
Saturday morning, I headed out to the airport to pick up Cindy. Just as I was getting off at the exit for the airport, TRT came on the radio...I just turned it up and laughed...
Heck I almost didn't recognize Cindy...looking good! Since she didn't have to be at the M&G till 1:00, we stopped for breakfast then headed out to the hotel. Just as we were pulling into the hotel parking lot, what comes on the radio but I Don't Wanna Be. Even though it wasn't Bo, we still got another laugh out of it! Luckily we were able to get an early check-in and freshened up a bit.
Security was a bit more relaxed in the afternoon and I was able to go into the sound check with Cindy. Heck I don't even remember what they played at the sound check...but it sure was nice to be there. thumbsup
Since it wasn't my M&G I didn't ask for an autograph, heck I didn't even bring anything for him to sign. Richard asked if I wanted anything signed, I said "Nope" (what a dope) I just stood back taking pics of everyone else getting their autographs and pictures taken. At one point Bo asked if I was just there to take pictures...Yep! idunno
After the M&G most of the folks there went to Applebees for a quick lunch. It was really great to meet and chat with some great new friends.
After lunch we headed back to the hotel and posted a few pics. My niece, Nikki, and her girlfriend, Allison, met up with us at the hotel. They were so excited to be going. They had on the cutest shirts they had made.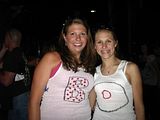 Once the other two people going with us showed up, we headed out to the venue. This is the first time I've had "assigned" seating at a S$ show. That was NICE. Not waiting all day in the hot or cold! Our seats were in the 2nd row. Woo-Hoo! I went and said hello to a whole lot of people, but felt a bit guilty leaving my friend sitting there all by herself, so I went back to my seat. It was then that Bo came out riding "The Goat". I saw him riding from the side of the stage and at first wasn't sure what I was seeing…then I was frantically digging through my to get out my camera. Got it out, turned it on, and it took FOREVER to start up. Of course, by then he was already headed back off stage. It was actually really funny. He got to about the middle of the stage and the screams started when everyone realized who it was. He didn't stop just had this HUGE smile on his face…
There was a comedian who came out to "warm up" the audience…this man was funny…Not long after he left the stage, people were getting antsy for the show to start and began a "Bo, Bo, Bo" chant. That seemed to get everyone moving backstage because out came the guys!!!
The second the jam started, we were all up on our feet…although nobody else was…Even the folks in the first row didn't stand up through the whole concert, which was fine with me…no heads or hands in my pics LOL There were a few "down in front's" shouted. I guess Jeff is right, I have to go get my hearing checked, because I continued standing. How people can not stand during a rock concert is beyond me. But at least the cheering was LOUD!!!
As far as crowd size goes, I would have to say there were 3500 - 4000 people there. Detroit IS Rock City you know...
I took this pic before the concert, so the place filled up even more as the evening with on..
I think everyone else covered the concert pretty well and since I'm not great at that part, I'll just say it was AWESOME, although I never expected anything less. I do remember Ain't Got Money, Vehicle and Whipping Post…probably my favorites for the night. And thank goodness pics have already been posted because I would not have been able to tell you what everyone was wearing. During the guitar jam in Freebird, Bo came over to our side of the stage and Nikki and Allison were watching him, just seconds before Kris started his bounce, I pointed to Kris and told them to watch him…bounce, bounce, bounce, bounce, JUMP!! They LOVED it.
The concert was over WAY too soon. When Heath was throwing out some guitar pics, I pointed at Nikki and Allison and he threw one their way…Allison got it and was so excited over that! I can't believe I had my camera put away when the water fight started. (And Bo is not exactly telling the truth in his blog… roflmao) As Gypsee said, security chased us out of the venue. "The bus has already left??" PLEASE… We laughed and told them…we know that's not true because the are still packing up the equipment and the road crew and tour manager WERE STILL ON STAGE. That didn't work, they still made us leave. I would have loved to get Nicki and Allison and autograph or two. As we were walking out, I told the girls…"THAT was a rock concert, no singing to tracks at this show" They were blown away by the music and just had the biggest smiles on their faces. One of my friends that came with me, Jan, totally enjoyed herself. She told me she expected mainly teenagers at the concert and said she was surprised to see so many folks our age. (and I think maybe a bit relived too!)
I had made arrangements for all the "Bo-Peeps" to meet after the concert. What a great idea that was (even if I have to say so myself) Everyone talking, laughing and having a great time. We met a lot of new friends and got reacquainted with some old ones as well. Here's a bit of advice for you…If you go to Friday's and order a frozen Cosmopoliton, be VERY sure you are thirsty. I swear this thing came in a fishbowl. (I was very thirsty, BTW).
Cindy and I headed back to the hotel and pretty much crashed right away. The next morning we had breakfast in the along with some of the other fans who were staying at our hotel. We still had some time before we needed to leave for the airport so I started going thru my pics and editing them so I could upload em. All of a sudden I got real sleepy and was gonna lay down for just a few minutes. Oops, fell asleep for I don't know how long. Poor Cindy… LOL
It was a rather bittersweet ride back to the airport. I was so sad to see her leave, the time just flew by so quickly. It was a great weekend all around. Allison left me this comment on Myspace today…