Title: 9/30 Wichita Falls
BiceBabe - October 3, 2006 10:06 PM (GMT)
Why is the word "Wichita" so hard to spell? That's my question. Not looking for an answer though... Just thought I'd throw out that random thought. B)
Here are a few of my WF pix. I'm sure I have one or two more hiding somewhere. When I get to them (after finishing Norwalk and doing all of Cape G), I'll let ya know...
CAMPFIRESKY - October 4, 2006 05:24 PM (GMT)
Read Kevin's recap (IRAPOET) about Wichita Falls here:
http://s12.invisionfree.com/SugarMoney_Fan...opic=2602&st=15
Here are some pictures of Kevin's "MEAT 'N GREET".
Kevin showing off his meat (I mean BBQ)
(Kind of funny that it was from
"Cooper's"
Awesome Welcome to Texas gift basket that Kevin and his wife put together from all of us.
The little kid Kevin mentions in his recap
Kevin with Bo at MEAT 'N GREET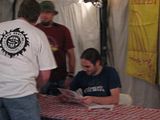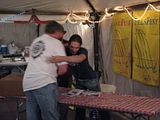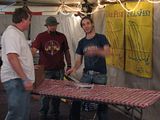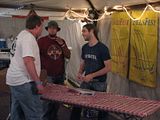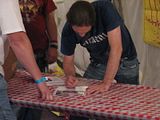 THANKS AGAIN Kevin for putting this all together and including us.
YOU ROCK!!! headbanger
divotsmom - October 4, 2006 08:33 PM (GMT)
Well these are kinda mixed up ! But here goes........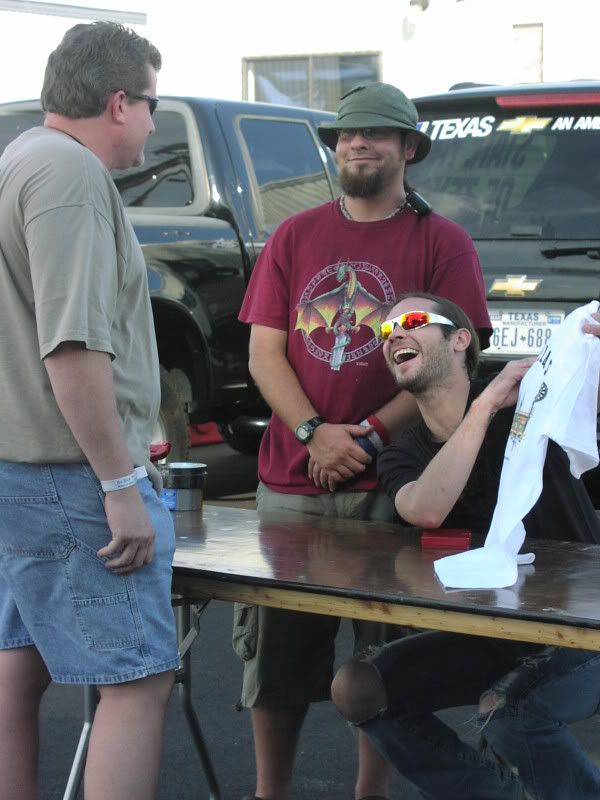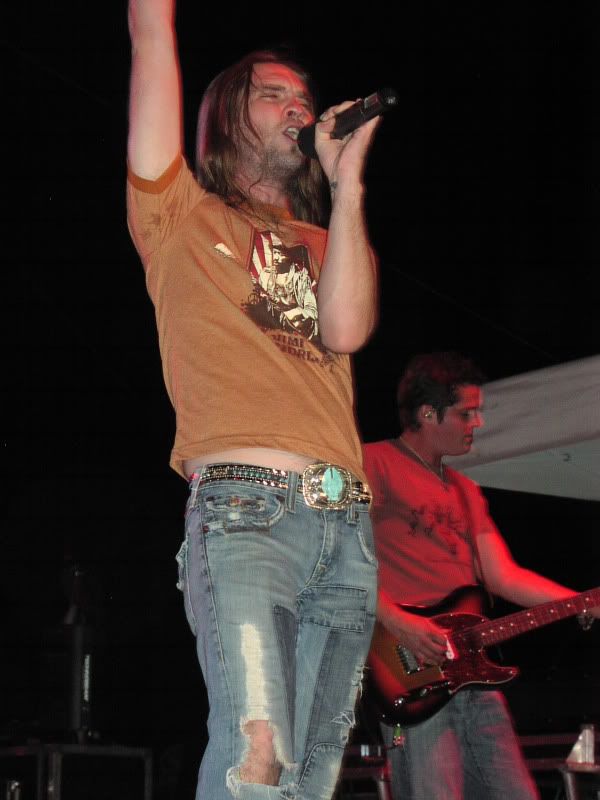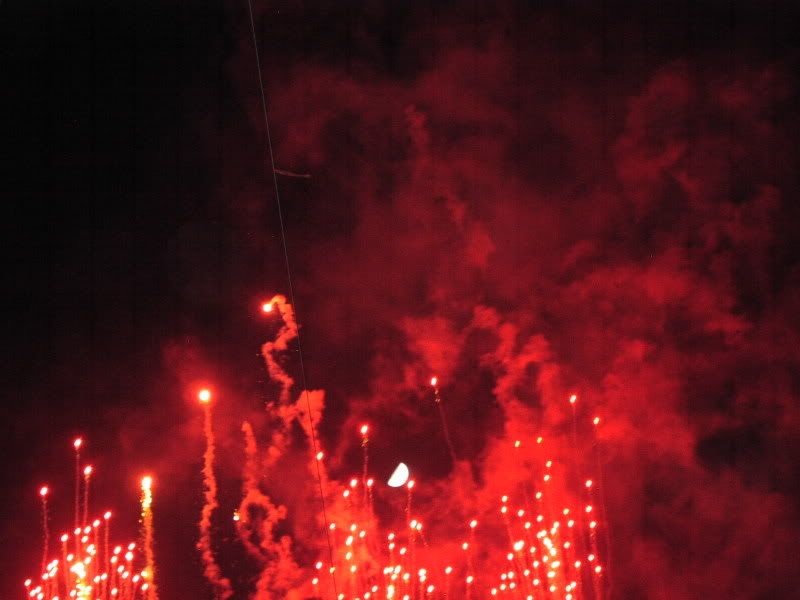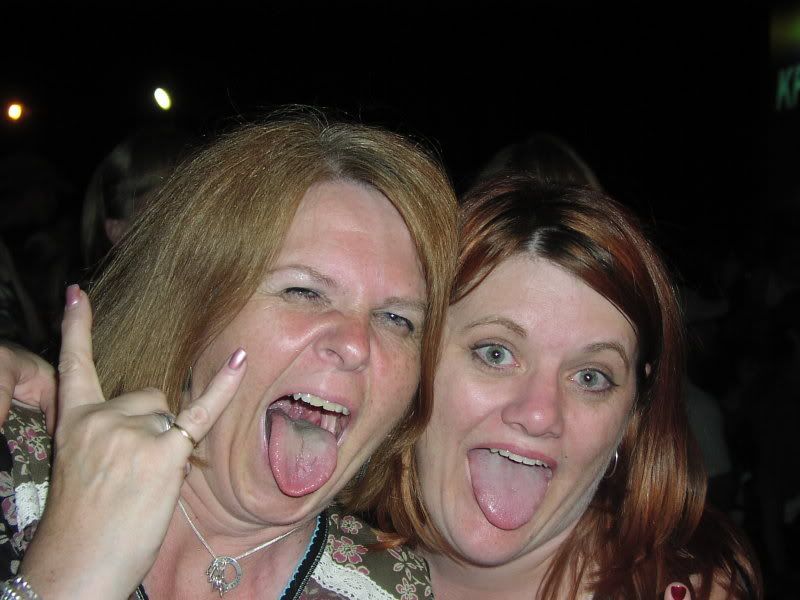 PMC - October 4, 2006 08:47 PM (GMT)
*roflmao* those are wonderful!
Kathyc - October 5, 2006 01:59 AM (GMT)
Great shots Pammie! Bo looks so happy to see you guys !!!!!!!

Well, who wouldn't ............ idunno

slysmiley
sjwBO - October 5, 2006 10:08 PM (GMT)
Great pictures everyone! I felt so lucky to be able to see the M&G when y'all gave Bo his gifts. He was so thrilled. He looked so happy.
I really enjoyed meeting a bunch of you and seeing some of y'all again! Thanks to all of you for making it an even better day. My only regret was that I didn't get to go to Dallas. cryingsmiley
Mom and I just got back from TX yesterday and I'm trying to catch up. I wanted to share some of the pix I got.
http://s66.photobucket.com/albums/h253/sjw...alls/?start=all
divotsmom - October 5, 2006 11:06 PM (GMT)
Hey Sarah,

Nice meeting you too. Looks like I got my mitts in a couple of your pictures. sorry :(

Could have bet money on the fact you were on my right, but maybe that was after I kicked that guy out for butting up in front of some of the BBS$ fans. Oh well the cops came so that works for me *roflmao*

Pam


sjwBO - October 5, 2006 11:31 PM (GMT)
Hi Pam, yeah I was on the right of everyone. I was the one pinned in the corner (lovin' every minute of it).
Did the cops finally come? I have to admit, once I saw Bo & Sugarmoney, my eyes didn't turn around till they left the stage! They could have come in, sirens blaring, and I wouldn't have seen it!! :blink:
SusanFL - October 6, 2006 02:52 AM (GMT)
Love the expression on Bo's face when meeting Chris (Chris/fastglass, that is you, right?!)...what in the world were you saying? That's a real laugh/smile on Bo's face. Awesome.
Bliss - October 6, 2006 05:43 PM (GMT)
I really LOVE that picture of Sharon and Patty. *heart* You girls ROCK!! headbanger
BOdacious Mama - October 6, 2006 10:50 PM (GMT)
The scary thing is I don't think either one of us knew the other one was doin it :lol:
shebba - October 7, 2006 04:19 AM (GMT)
A little scary, eh, Patty? :P :P

shebba - October 7, 2006 05:05 AM (GMT)
shebba - October 7, 2006 05:10 AM (GMT)
A few more:
For more:
http://s16.photobucket.com/albums/b30/shebba/WichitaFalls06/
Password: peaches