Title: What Capitalists think about you.
cmdrnmartin - March 6, 2010 01:54 AM (GMT)
QUOTE
During the national furor that erupted last year after American International Group paid more than $165 million in bonuses, the voices of those vilified for receiving the payments remained silent, at least in public.

But behind closed doors, employees at AIG's Financial Products division -- the very unit whose trading had hastened the insurance giant's collapse -- were defiant, saying they were merely getting what they were due, recoiling at public accusations that they were behind their capitalizing on the company's massive taxpayer bailout.

"I will stand behind every action I have taken in this company from Day One," one employee said, according to a newly obtained transcript of a conference call the division's head held last March with some of his staff.

But when another employee asked whether the staff would be getting a second round of bonuses promised for March 2010, his colleagues burst into laughter, apparently considering this a preposterous notion amid the public outrage.

Yet they did see that money, at least most of it. Last month, under a deal in which employees agreed to take a cut in their upcoming retention bonuses in return for an accelerated payment, AIG paid out about $100 million to employees at the firm. AIG is scheduled to pay the last of the bonuses this month.

Even so, neither time nor money has softened the employees' feelings of wrongful persecution and their anger over becoming the subjects of scorn and ridicule. Seldom was that sense of victimhood more clear or more visceral than in the conference call of March 23, 2009.

Gerry Pasciucco, who had been hired to wind down Financial Products after the AIG bailout, was in Wilton, Conn., broadcasting his image and his voice to shaken, frustrated and furious employees in London, Paris and Hong Kong. Pasciucco quickly encountered a buzz saw of complaints over demands that they forgo the bonuses they were due. Emotions were running especially high in the London boardroom, where scores of staffers had gathered around a large table.

"I think it violates everything I believe in, and it's un-American," one employee said that day, according to the transcript of the call.

"This country is supposed to stand on due process," said another. The names of the staff members were redacted from the transcript obtained by The Washington Post.

'Missing the point'

The employees said that the corporate leaders who had driven the firm into the ground were already gone from the company. Those who had remained behind to help clean up the mess and repay the taxpayer bailout were due their compensation, they told Pasciucco.

"You made a commitment to us, and we made a commitment to you. And for anybody to look beyond that, as the politics and the media are at the moment, is missing the point," said an employee. "You can't expect us to just roll over and ignore that commitment because there is a bunch of immoral bigots that intend us to do something different. It's not going to happen."

Another was even more irate, lashing out at the public for scapegoating AIG employees. "To be honest with you, I really hope it blows up. I think the U.S. taxpayer deserves to lose a trillion dollars over this thing for the way they have behaved."

And then he turned on politicians who had joined the anti-AIG posse. "They only care about the next election, just like we only care about the next bonus. Well, none of them cares about the country, none of us cares about the institution," he said, adding: "They really don't care, and I really don't care. And frankly, if a trillion dollars gets lost, fine."

The AIG retention bonuses have rankled many in the public because the company has received a federal rescue package of about $180 billion in loans, stock investments and other commitments from the Federal Reserve and the Treasury Department. Closing down AIG Financial Products' trading portfolio has been vital to stemming further losses and repaying the public money.

As the employees were confronting Pasciucco last spring, lawmakers in Washington were contemplating a 90 percent tax on the bonus payments. AIG's chief executive, Edward M. Liddy, had been berated on Capitol Hill. Employees had received anonymous threats, some violent.

'Is this blackmail?'

Pasciucco wanted to assuage their angst that day. But he also had another goal: persuading them to return 50 percent of the bonus money in hopes that New York Attorney General Andrew M. Cuomo would not make their names public, as he was threatening. Employees fumed, accusing Cuomo of "blackmail" and "extortion." They complained that they were being forced to pay "protection money."

"Is this blackmail? To a certain extent, it is," Pasciucco told employees that morning. "If the only reason you would give money back is because you are afraid for your family and you are afraid for your safety, then it is."

He agreed that the manner in which some Washington officials had responded to the furor was despicable. "I think it's distasteful. It's unfair. It's unjust. I agree with you, it's not American. It is McCarthy-ite. . . . It will be viewed as a horribly dark period."

Still, he tried to offer a dose of realism. The retention payments might have been guaranteed by contract, he said, but Financial Products had made bad bets that cost taxpayers billions of dollars. Although the decision to return part of their money was voluntary, he said, such a pledge might help employees defuse some of the public anger.

"I am not laying this out that it's the right, moral thing to do, but I am telling you that you are naive if you think that you can ignore the political reality around this as you make your decision," he said, adding: "I am just going to caution you that if you are not lionized and . . . garlands of roses are not put around your shoulders, you shouldn't be surprised."
Stoopidtallkid - March 6, 2010 02:37 AM (GMT)
Boss: We're going bankrupt and may be out of business soon, unless the government's money is enough to keep us afloat. You may be looking for a new job in the near future.
Peon: ...shit. Seriously, dude, my kid just started college, my wife is getting a knee replacement. I mean...shit.
Boss: I know. Things are tough, so we'll be giving you a bonus, as a thanks for staying with us through this.

Now, which of the following would you say:
"No thanks, I'm good, don't want to take money from the government?"
"Uh, cash? When I might lose my job next week? Gimme."

In other words, don't blame the middle managers for taking the bonuses, blame the CEOs who put them in that hole and ran, and the government that thought it was a good idea to give money to a failing business.

Josken - March 6, 2010 01:01 PM (GMT)
I always notice there seems to be a huge misunderstanding about these bonuses.

See most people still receive a fixed amount for every period of time they work. For me, and many with similar jobs in finance, marketing, etc...this is not the case.
I'm not going to divulge any numbers, because that's none of your business, but this is pretty much how my salary works.

First off, I do get a fixed monthly salary. Now, honestly, if you compare this to the amount of time and effort I put into my job, I would probably be doing a little better than minimum wage. On top of that, there's my variable salary, aka the infamous bonuses, which is directly linked to my evaluation on a number of criteria ranging from concrete numbers like profitability to more subjective ones like "motivation". You won't believe how much "teamwork" has already cost me by the way.

My so-called bonuses make up a substantial part of my salary and without them, I would probably not bother showing up at all. I'm telling you this, because you need to understand that, for a lot of people, these "bonuses" are an essential part of their salary. And also, these bonuses aren't linked to how the economy or even the company is doing, it's based on how I am doing.

So if you're busting your balls and doing a good job, it would be pretty shitty if your salary got sliced because someone else fucked up.
Sender - March 6, 2010 04:32 PM (GMT)
Yeah but if you hadn't noticed, their "good job" completely fucked the world's economy.
Josken - March 6, 2010 05:10 PM (GMT)
As an educated adult and a teacher no less, you should know better than making such a completely baseless generalization.

Besides it's quite peculiar that there's such an outrage about salaries being paid to American workers and nobody seems to care what happened to the other 169,7 billion.


Stoopidtallkid - March 6, 2010 05:22 PM (GMT)
QUOTE (Josken @ Mar 6 2010, 12:10 PM)
As an educated adult and a teacher no less, you should know better than making such a completely baseless generalization.

Besides it's quite peculiar that there's such an outrage about salaries being paid to American workers and nobody seems to care what happened to the other 169,7 billion.
Primarily because of this: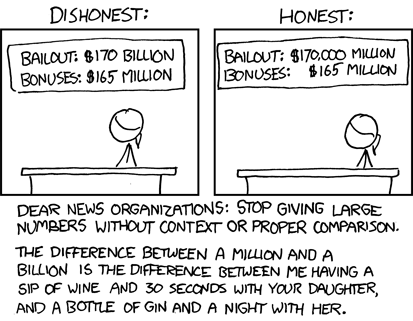 Hell, even I made that mistake the first couple times I heard the numbers.
Also, Sender, the company's leaders, primarily the CEO and President, were the ones who screwed the world's economy. Those lower on the totem pole were the ones who were getting the bonuses, the ones that made the decisions were already set for life.
Sender - March 6, 2010 06:30 PM (GMT)
Calling shenanigans Josken. Try again. Wasn't making a baseless generalization. Also, we weren't talking about the other money. This thread is specifically about THIS money. Want to talk about the other thread, be my guest. I'm staying on topic.
Read and pay attention.
http://www.dailymail.co.uk/news/worldnews/...an-history.html
http://www.bloomberg.com/apps/news?pid=206...2Hdtn9FTg&pos=6
I want you to note the language. The bonuses were paid out to the specific group responsible for the crisis at that one company (AIG), there are plenty of other examples. How baseless or generalized is that? We aren't talking about your average worker and their bonuses. I'm fine with bonuses a majority of the time. However, we're talking about a specific group of infamous individuals and a very specific. The way THESE guys bonuses work, there's no defense for it.
Stay focused.
Josken - March 7, 2010 09:46 AM (GMT)
Now you're moving from a generalization to nothing but baseless accusations.

The lack of a thorough investigation, which no government apparently had the balls to conduct, makes it impossible to determine where the exact cause of AIG failing lies. This finger-pointing at one department is incredibly narrow-sighted. A department and its staff aren't an island, their conduct is a part of a general business strategy, which is determined at a whole different level. What you're looking at, is the end of the chain.

Within the framework provided to them, most recipients of these bonuses did a good job. Rest assured, if they hadn't, the corporate world is most definitely harsh enough to ruin someone who doesn't. Determining where mistakes where made and who made them, takes a far more thorough look than a glance at the immediate origin of the faulty product. Again, at AIG, the investigation needed to determine the exact source, was never conducted. You can compare it, to the recent Toyota scandal. I don't think anyone is going to place the responsibility for that on Toyota's factory workers building the cars.

Both AIG's and Toyota's problem stem from the same business culture that led to the crisis in the first place though. The beginning of the chain are shareholders and the stock market. Now more than in its centuries of history, the stock market is focussed on short-term results. Value is now calculated on an almost second-by-second basis. Go to any respectable site on the financial world and you can follow the markets in realtime. This has led to short-sightedness and a marginalisation of long-term strategies.

Now it's funny how you wish to limit this discussion to the bonuses, because that's exactly the goal of stories such as these. This is a smokescreen, a target for populist outrage, there to guide your attention away from much more important issues. Because while you're up in arms about millions, there are billions sneaking out through the backdoor.
Sender - March 7, 2010 02:30 PM (GMT)
Your analogy doesn't work. Yes, lack government oversight is another problem, but that's another issue as well. But there has been a lot of independent information out about these brokers. Read The Quants and about 8 other independent books to know more. I didn't know a government inquiry was required otherwise accusations were to be considered baseless. This department wasn't low-level employees Josken, and in several things I've read they actually were considered an independent island. Someone actually used that exact phrase, funny that you word it like that.

These guys were big rollers. Higher up on the food chain. Not the CEO, but the guys that build the formulas and make the funny math that then gets passed down the food chain. These aren't the Toyota floor workers, these are the guys that designed the cars, designed the electronics, the guys that made the decisions to cut corners and costs. The high to mid-level guys making the calls that the floor employees have to follow. Do you see the distinction? Even Toyota knew not to blame the floor workers, the problem came from the corners cut by people in the higher offices (not the highest offices, we're talking mid-level management here).

And like I said, if you want to talk about the other money, make another thread about it. I don't disagree that money is being ill-spent all around, but I was focusing on one issue here. If you want to rant about the other billions, please feel free. But I wouldn't imply that one is more important than the other, one deserves outrage more than the other.
Josken - March 26, 2010 10:56 AM (GMT)
How I worded it, is not a coincidence. Referring to them as "an island" is quite popular, yet wrong.

It's easy though, stamping on that kind of labels. It gives us someone to point to, a target for our outrage. They are the wrongdoers. Rogue elements. The North Korea of the financial world, if you will. It's easy...It's easy because it relinquishes us of our own responsibility.

The financial world was given a mandate. A mandate by the people no less. "Make us money. Fast, easy money. We won't ask any questions. Not where it comes from. Not how you got it. Just do it." And while they were making money, nobody cared. Read your books again and I'm sure you'll see ALL of them will let you know that it has been going on for years, even decades.

A brave few economists stood up, shouting out, at the top of their lungs, their prophecy of financial doom. But, did we listen? Of course not, the outcry of the individual was silenced by the monotone chant of the masses. "Money! Money! Money!" More and more the value of stock and securities were detached from reality. The bubbles started forming again, bigger than ever before. And then, like bubbles do...pop. Reality, the cruel and harsh mistress, struck.

It didn't take us long to find those we had been blissfully ignoring for so long.
Sender - March 27, 2010 12:52 AM (GMT)
What, is this the prologue to a novel you're writing?

I expected more dick jokes.
Josken - March 27, 2010 12:03 PM (GMT)